Creating a new Implementation Plan
The Implementation Planner enables a user to establish a basic project plan based on the changes made in the Scenario Planner. This function generates a list of changes and enables users to assign actions, accountability and deadlines to element owners to achieve target compliance levels.
Step 1: Click on "Go to Implementation Planner" as shown below: The implementation plan gets generated automatically as you make changes under scenario planner.
Step 2: Select the scenario plan on which you would like to generate a project plan for by clicking on the description as shown below:
Step 3: The implementation planner will default to the ownership element, please see below:
Step 4: Then click on the element/s where changes were made to assign actions to the responsible people. In this example we used skills development.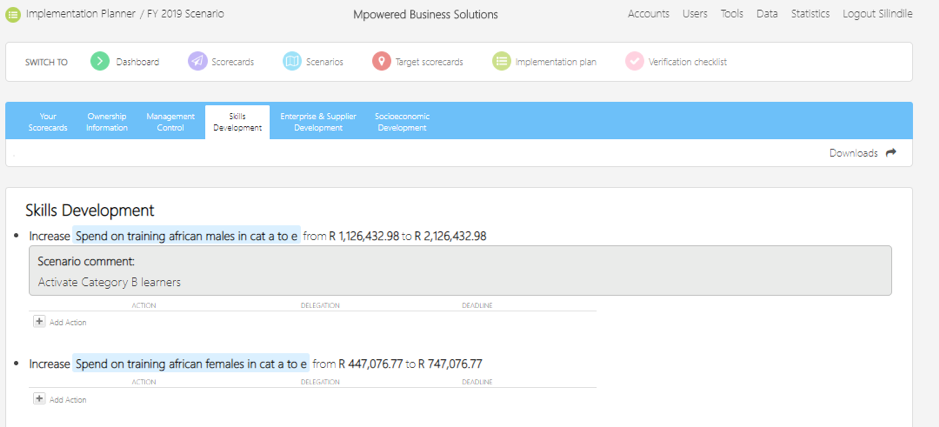 You can assign the action items to other members of the team if you are not responsible for actioning them. To make use of this functionality, click on "Add Action" as shown below. Please note that the delegation will provide you with a drop-down list of all the existing users (the delegation cannot be made to a person who has not been registered as a user). Once a delegate has been saved, an email will be sent to the delegate to indicate the action item that has been assigned to him/her as well as the deadline for the completion of this action.
Once you have completed adding the action items to the implementation plan, you can click on "download" as shown below to download a PDF report. This document can be sent to the transformation executive to ensure that delegated tasks/actions are completed within the time frame provided.
The report will look as follows: